4/22/2019
EXHIBITOR magazine is proud to announce its 2019 Editorial Advisory Board. Each year, EXHIBITOR selects a handful of exhibit and event professionals who represent a cross section of the magazine's readership to serve on the committee, which meets monthly to discuss each issue, flesh out story ideas, brainstorm new topics, and more. Members are limited to three consecutive one-year terms.
"These face-to-face marketing professionals serve as our cabinet, so to speak, advising us on what to write about, how to write about it, and who to interview," said Travis Stanton, editor of EXHIBITOR. "They are our eyes and ears out in the trade show trenches, and they ensure that our content remains relevant and necessary to exhibit and event marketers."
The search for the new 2019 board members began in January. After soliciting nominations from EXHIBITOR staff and past advisors, the editorial department met to narrow down the list to several dozen finalists. Finalists were asked to complete a questionnaire regarding their years of industry experience, the size and scope of their respective trade show programs, and their suggestions for future editorial content.
"Our Editorial Advisory Board has always played an essential role in keeping EXHIBITOR on track to consistently produce award-winning issues that give readers the tools and education they need to create high-performance programs with measurable results," Stanton says. "I am confident we have an outstanding group of exhibit marketers on board for 2019, and the entire editorial team looks forward to working with them throughout the next year."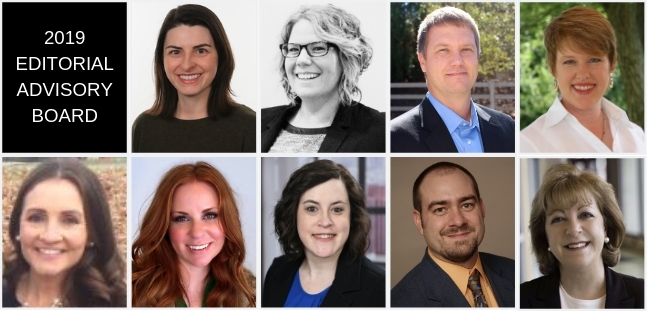 2019 Editorial Advisory Board members
Janet Dusenberry, CTSM, has managed trade shows and events at Medela LLC since 2012. She has transformed her program by looking beyond just lead collection to placing more emphasis on meeting objectives and success measurement. Dusenberry also helped to develop a corporate social responsibility strategy and regularly integrates cause marketing into her trade show exhibits to achieve goals, support corporate initiatives, and create new ways to engage attendees. Having already achieved her Silver Level Certified Trade Show Marketer (CTSM) designation, she continues to stay active in the CTSM program as a portfolio advisor and mentor.
Jessica Iden, CTSM, currently serves as the senior manager of conferences and conventions for Boehringer Ingelheim Animal Health. She is an experienced event marketer with a demonstrated history and proficiency working in the pharmaceutical industry. Iden is skilled in experiential marketing, trade show exhibits, event concepting, production, management, and strategic planning. She has spent the last seven years at Merial, now Boehringer Ingelheim, leading event marketing efforts and concepts for the company's animal health brands, including NexGard, Heartgard, and Frontline Plus, as well as vaccines and therapeutics in a business-to-business setting.
Chris LaRoy supports the Industry Events and Trade Shows team at Cox Automotive. This team is responsible for cultivating and maintaining key industry relationships, as well as strategy and activation at industry trade shows and conferences. LaRoy joined Cox Automotive in 2013 and has leveraged more than 10 years of marketing experience to drive innovation and enhance the client experience. Prior to joining Cox Automotive, LaRoy was a marketing manager at Momentum and also worked with Jack Morton Worldwide. He earned a bachelor's degree from Indiana Wesleyan University and an MBA from Florida Atlantic University. He is also a former EXHIBITOR Magazine All-Star Award recipient.
Annette McClure, CTSM, CSEP, has more than 20 years of exhibiting experience for Nationwide Children's Hospital in Columbus, OH. McClure earned her CTSM designation in 2010, and she has since advanced to the Gold Level. She serves as a portfolio advisor for CTSM candidates, is a member of the EXHIBITORLIVE Conference Advisory Board, and was a speaker at EXHIBITORLIVE 2019. McClure also earned the Certified Special Event Professional designation in 2012. She enjoys working in the not-for-profit health-care sector as it presents complex challenges and opportunities for leveraging the power of face-to-face marketing in the trade show and events environment.
Jenny Nichols has been in the event management and marketing industry for more than 10 years. She started her career at Gojo Industries Inc., the inventors of Purell, four years ago in the health-care market. There, she managed and coordinated more than 100 trade shows and events per year and collaborated with marketing and sales operations teams to create a more efficient and elevated program. Now, Nichols is responsible for the strategic management of all trade shows across the company and creating and implementing a trade show center of excellence.
Kelly Noonan brings more than 10 years of marketing, trade show, and mobile marketing experience to her current position managing the global event and trade show program at Tate & Lyle PLC, a global food ingredient company. Since her start, Tate & Lyle's trade show program has evolved into an educational experience that provides visitors a reason to remember the company. Noonan has also managed the Natural Health Tour, a 30-week mobile marketing event. She is a past and present EXHIBITORLIVE faculty member, as well as a 2016 EXHIBITOR Magazine All-Star Award recipient. Noonan also recently earned her master's degree from Northwestern University.
Jessica Simon has more than 10 years of marketing and trade show management experience in the manufacturing space. At S&C Electric Co., she currently manages a team of event coordinators who support 30 to 40 events nationwide. Those events vary in size and include everything from traveling demo trailers to an onsite product demonstration center. Simon specializes in working with large products/equipments, booth space layouts, and project management. She completed her CTSM in 2015 and is currently pursuing bronze level.
Chad Stover, technical marketing manager at The Conair Group, has more than 15 years of marketing experience. Stover is responsible for managing all technical communications, trade shows, and events, and maintaining brand standards on manufactured equipment. A "boomerang" employee, Stover started at Conair while in high school and college, left for a stint in education, and returned to Conair in 2008. His first trade show experience was preparing for and attending the 1997 National Plastics Expo in Chicago. Six NPEs later, it's still his favorite event. Stover has degrees in English and education and his M.Ed. from Westminster College in New Wilmington, PA.
Melanie Swanson, CTSM, CMP, has managed trade shows and events for more than 25 years. In 2010, Swanson became one of the first CTSM graduates to achieve Diamond Level status, and in 2018, she was honored with an All-Star Award from EXHIBITOR magazine. She is a past EXHIBITORLIVE faculty member and has served on the EXHIBITOR Conference Advisory Board. Swanson is active in the CTSM program as an exam proctor and portfolio advisor, and she teaches one of the CTSM Power Portfolio Working Weekend sessions. She is currently the events manager for Thermo Fisher Scientific. Swanson holds an MBA from the University of Wisconsin.
About Exhibitor Media Group
The leader in trade show and corporate event marketing education, Exhibitor Media Group publishes the award-winning EXHIBITOR magazine, a monthly publication featuring best practices in trade show marketing. EXHIBITOR's learning events include: EXHIBITORLIVE, the professional development conference for trade show and corporate event marketers; EXHIBITORFastTrak accelerated learning conferences; and EXHIBITOR eTrak, professional online learning. Exhibitor Media Group is also the founder and sponsor of CTSM (Certified Trade Show Marketer), the industry's only university-affiliated professional certification program. Learn more at www.ExhibitorOnline.com.
EXHIBITOR is a registered trademark, and EXHIBITORLIVE, EXHIBITORFastTrak, and EXHIBITOR eTrak, are trademarks of Exhibitor Publications, Inc. in the USA and other countries. All company and/or product names may be trade names, trademarks and/or registered trademarks of the respective owners with which they are associated.
Contact:
questions@exhibitormagazine.com